Also available in Kindle and Audiobook
HOW TO MAKE ANYONE FALL IN LOVE WITH YOU
85 Scientifically Proven Ways
Regis Philbin, talk show host, said: Every single person I know asks, "How can I meet him or her?" At last I have the answer. READ THIS BOOK!

Wouldn't it be great to capture or keep the heart of any man or woman you choose? Now you can with these proven, rock solid, scientifically-sound techniques. After centuries of mystery, science is finally unraveling what romantic love actually is. What triggers it. What kills it. And what makes it last.
You will discover the six crucial factors that must be present for love to blossom and how to create them. You will then be given 85 exciting and easy-to-master techniques to make him or her take the tumble. The easy-to-learn rules are surprising, but, it's a five step plan guaranteed work — if you follow it!
Here is just some of what you will learn:
The 3 similarities and 1 difference you must craft to make love work
When you should play hard to get, and when you shouldn't
The "deeper values" your intended requires in a relationship
How to turn a friend into a lover, or reawaken old passion
Why women like the "bad boys," and why nice guys should be just "a little bad"
Men: Why words work on women, and which ones are best
Women: The single question you can ask a man that is guaranteed to excite him
The common mistake people make that destroys most relationships
A unique technique to uncover, then fulfill, his or her deepest erotic fantasies
Little "tricks" to make him or her feel you are the right partner for life
Amazon reviewers say:

Engrossing Bible for romance
The author's approach cuts straight to the crux and lays down not mere theory, but hard-core application. In contrast to most other works which are wordy and boring to read, Leil's offering is acutely informative AND humorous. This certainly helps retention AND makes the practice of her system an enjoyable game. I've read over 20 books on this subject, and written a few myself. I can still attest that this book goes beyond most of them.
By Joseph R. Plazo (http://www.xtrememind.com)


Good advice backed by solid evidence
Despite the somewhat cheesy title, this book shows what most often appeals to the opposite sex in first impressions, dating, sex, etc. Lowndes doesn't just offer her unsupported opinions; she presents survey and scientific evidence to back up her claims, unlike many other books in this genre. Equally good for men and women, all the key points are summarized in a list for helpful review. Be prepared to reread it and consult the list frequently – it's well worth it!
Steven P. Justus "Steve Justus"(Westminster, CO USA)


Don't Be Single Without It!
Many well-educated experts can't get their information across to the average person, because their writing style is more effective as a sleeping pill than a self-help manual. Leil Lowndes does the seemingly impossible in this book-she intertwines behavioral studies in a fun-to-read book. Nodding off is never an option, as she takes you on the exciting journey of capturing your quarry. As a dating expert myself, I am giving her the highest compliment when I say that hers is the best dating book on the market (aside from mine, of course!). Bottom Line-don't be single without it!
By Melissa Darnay, author of Dating 101 (Dallas, TX United States)


The best "How To…" book out there, January 14, 2004
Very well organized and written, this book is an easy and entertaining read. It is very useful in isolating simple techniques and using them more conscientiously and efficiently. I have read many books on the subject of what to do and what not to do to get a man/woman, and this is by far the best. Money and time well worth it!
By A Customer


Insightful and Entertaining, November 26, 2004
The book is loaded with practical techniques, with numerous examples both from real life and from scientific experiments. The bottom line is – the techniques work.
By Laura De Giorgio "www.deeptrancenow.com"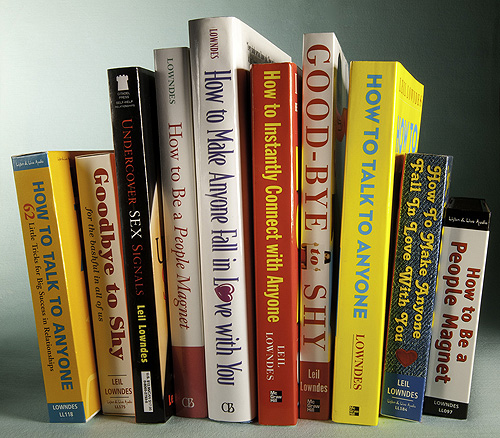 Leil Lowndes
is the best-selling author of 10 books on communication skills and has spoken in every major city in the US and many abroad. She has been called "America's Communication Guru," because she has helped millions become better communicators for business, friendship and love.
Her books are available in eBooks, audio books, and in 26 different languages. Select a title below to read the various book and audio descriptions or to buy now.