Also available in Kindle and Audiobook
GOOD-BYE TO SHY
85 Shy Busters That Work!
Les Brown, Human potential mentor and author of the best selling "Live Your Dreams," said: "To be a winner, you've got to talk like one, walk like one, and act like one. Leil gives you solid "take home techniques" to be a winner."

Don't they know how hard it is? The anxiety? The wanting to be invisible? The fear that you'll say something stupid? You know you have a lot to offer and, if you could just say "good-bye" to being shy, everything would be OK. You could get on with your life.
Leil does know how horrible shyness is because she overcame an agonizing case of "Social Anxiety Disorder" herself to become a confident woman who now speaks to crowds of thousands.
In Good-bye to Shy, she shares 85 techniques, (called "ShyBusters) that "cured" her of her painful condition. This sociologically sound method cannot be found in any other book written for shy people. Yet they are techniques backed up by research and clinical studies which are referenced in the appendix.
People who think "Social Anxiety Disorder" affects only the young are grossly misinformed. By following Leil's techniques, readers of all ages will soon be able to:
Overcome embarrassing stammering, sweating, clamming up, feeling stupid, and wishing you were invisible.
Make strong eye contact and "fearless conversation" with people who used to intimidate you. Especially those of the opposite sex.
Feel confident at parties, in meetings, on dates and in all social situations.
Speak up in group situations, give your opinion, and ask for what you want and deserve at work.
If you are a parent, find unique ways to help your shy child.
After reading Good-bye o Shy, you will say "Hello" to new friends, new business opportunities, new love, and best of all, new confidence.
Amazon reviewers say:

A Life Changing Experience!
When I came across "Goodbye to Shy", I was skeptical at first to say the least, expecting that a lifetime of shyness could not be "cured" through reading a self-help book. But through the candid wisdom of her writing, Liel Lowndes has quite literally changed my life forever. I began to realize that while some people ("Sures") seem to be naturally blessed with the confidence to interact with other human beings with ease; those of us who are not that fortunate can LEARN to adopt new habits. We can actually and mindfully develop new habits that will enrich our relationships with others and subsequently, enrich every aspect of our lives.
Julia W. "Julia W." (Branford, CT)


This Shybusters book is the best I have read.
While I am not a blubbering idiot around women, I do tend to get tongue-tied. Well, this book solved that problem. It's about getting more confidence through steps, not instantaneously. The author's ShyBusters tips throughout the book helped even more, especially the ones aimed at dating. For that, this book can't be beat.
J. Latham


Most people have some shyness in them, so most people should read this book
The psychologist I see for depression asked me to read this book. The first part of the book explains how "Shys" look at the world differently than "Sures." At the end of each section, Leil gives practical tips, or exercises, on how to change shys' distorted outlooks.
One Good Eye "IM, therefore, I Am." (Pelican Point, Utah)


This is a 5-STAR BOOK with a 0-star cover!/strong>
"Lowndes gives 82 "Shy Busters" which are specific techniques to fight shyness. Her insights into shyness are incredible because she went through the same pain. It was so refreshing to read something that wasn't written by some "holier than thou" psychologist who thinks we're "sick." No matter how much they are trained, they can never REALLY understand how horrible it is to be shy. But this author does. I can feel her pain as I read the book because it's exactly what I'm going through.
Bob Anderson (Albuquerque, NM)


The most helpful book I ever read!
People seem to think that shyness is just a "young person's condition." This is not true. I have suffered from being shy all my life. I shudder to think of all the missed opportunities and things I've missed because of it. But, thanks to an insightful and brilliantly written book, I am almost over my shyness. If you are shy, this book will change your life — for the better. Even my family has already commented on how much more confident I seem.
KATY (Pennsylvania)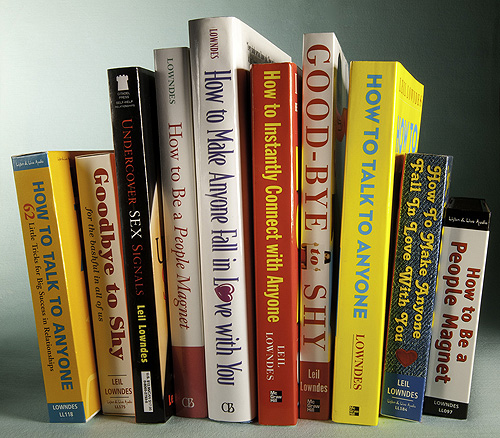 Leil Lowndes
is the best-selling author of 10 books on communication skills and has spoken in every major city in the US and many abroad. She has been called "America's Communication Guru," because she has helped millions become better communicators for business, friendship and love.
Her books are available in eBooks, audio books, and in 26 different languages. Select a title below to read the various book and audio descriptions or to buy now.