Also available in Kindle and Audiobook
HOW TO INSTANTLY CONNECT WITH ANYONE
96 All-New Little Tricks for Big Success in Relationships
Larry King, talk show host, said: "You'll not only break the ice, you'll melt it away with your new skills."


Nominated the Best New Book in Psychology by "Books for a Better Life;" and the Best Personal Development AudioBook by the "Audio Publishers Association"


If you liked Leil's How to Talk to Anyone, you'll LOVE this book! There are 96 all-new unique techniques to make you an excellent communicator – including on the phone and by email.
You know who they are. They're the people who, regardless of money, education, looks, or personality, make an incredible and indelible impression wherever they go. These individuals are master communicators, and everyone enjoys being with them. How to Instantly Connect with Anyone shows you how they do it and how you can be one too. You will learn:
7 Little Tricks to Make a Great Impression
11 Little Tricks to Take the "Hell" Out of "Hello" and Put the "Good" in "Good-Bye"
12 Little Tricks to Develop the Extraordinary Gift of Gab
10 Little Tricks to Actually Enjoy Parties!
5 Little Tricks to Handle Invitations: the Good, the Bad, and the Bummers
13 Little Tricks to Be a Cool Communicator
12 Little Tricks to Avoid the Thirteen Most Common Dumb Things You Should Never Say or Do
11 Little Tricks to Give Your E-Mail Today's Personality and Tomorrow's Professionalism
10 Little Tricks to Make a Big Impression on Your Cell (A.K.A."Phone")
5 Little Tricks to Deepen the Relationships You Already Have
In addition to the 96 cutting-edge, research-based techniques, this book shows you how you can create your own personalized little communication "tricks" to fit your particular personality and lifestyle. The secret is a neurologically and psychologically sound concept called "Emotional Prediction," or E.P. Leil explains the power of E.P. and shows you how to harness it through deceptively simple methods to reach greater success life, love, and business.
Amazon reviewers say:

Humor and depth, a rare combination
This author looks at everyday interaction between people and sees fascinating things that the average person wouldn't pick up on. She turns each of her x-ray visions of people into a technique that anyone can learn. I sincerely believe that almost anyone can learn to connect with people when they understand her concept of "Emotional Prediction." It is brilliant.
Ron Peterson (Des Moines, IA)


A fabulous book, worth twice the price!
No, make that ten times worth the price! It is the most helpful book I ever read. I thoroughly enjoyed it and learned a lot. The author gives original advice that you won't find anywhere else.
Chris (Chicago, IL)


Excellent! One of the best human relations books I've ever read
The 96 techniques are insightful and one of a kind. The element that joins them together is predicting someone's emotions before speaking or acting. It's one of those things that seems so obvious, but we hardly ever concentrate on it. I'm now making it a habit and I can already see how people are responding to me in a more positive way.
Al Rutledge (Flint, Michigan)


Even Shy People Can Use These Little Tricks!
I just finished How to Instantly Connect with Anyone. It was an excellent read. I am a bit on the shy side myself. But I am running a business so many of the author's Little Tricks are gemstones! Some, of course, I can incorporate right away. Others will take a little more time and practice to get them just right. But all of them will endear me to other people, which is important for running a service based business!
By Charli Brown "Charli B." (USA)


A wonderful one-of-a-kind book
I highly recommend it for anyone who wants to deal with other human beings in a better way!!!
Vicki P. (New Haven, CT)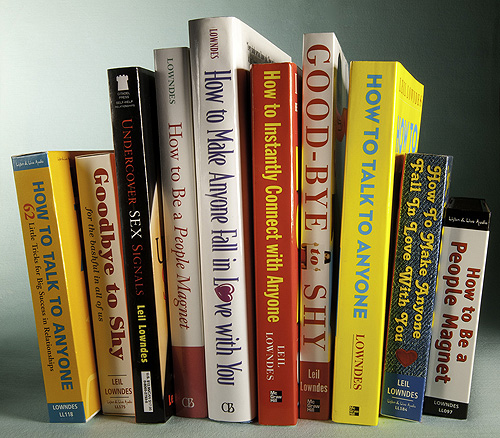 Leil Lowndes
is the best-selling author of 10 books on communication skills and has spoken in every major city in the US and many abroad. She has been called "America's Communication Guru," because she has helped millions become better communicators for business, friendship and love.
Her books are available in eBooks, audio books, and in 26 different languages. Select a title below to read the various book and audio descriptions or to buy now.