Also available in Kindle and Audiobook
HOW TO BE A PEOPLE MAGNET
Finding Friends and Keeping Them for Life
Liz Smith, world's most beloved gossip columnist, said: "Brava to Leil Lowndes for telling us how to stay young at heart."

Popularity skills for mature teens & young adults

Are you ready to attract a new friend – maybe even a romantic partner? This book for young adults helps you become a human magnet, making strangers like you instantly and shows you how to spread sunshine wherever you go. You will also learn how to enrich friendships you already have, and…
Gain confidence and self-esteem. (They are two very different qualities!)
Benefit from the surprising studies on what separates social "Winners" from "social "Losers."
Recognize and squash that Fatal FUD Factor. (Fear, Uncertainty & Doubt)
Avoid the biggest mistakes people make when they start to get close.
Learn to listen to people's hearts more than their words.
Develop a large circle of friends who will be there for you, whatever happens.
Learn the importance of a having a high OQ. (Optimism Quotient)
Amazon reviewers say:

A unique and wonderful guide to making friends, quickly and for life.
This is NOT your average book with trite advice on "how to make friends" It is far superior in every way. There is solid evidence for everything she says. And,like all Leil Lowndes' books, they are so much fun to read. Stories about some of her "friends" had me ROFL
Art Burgess (Chicago, Illinois)


I'll never be without friends again after reading this book.
I really needed to hear some suggestions on developing/maintaining and nurturing friendships. This book was more than I could have hoped for at a time in my life when I needed friends the most, and didn't seem to have any. It's helped to change my life and see what's most important to me in addition to my immediate family.
A customer


It has worked for me and I know it will work for you.
After reading this book and putting her methods to the test, many of my friends want to know why so many people are drawn to me. I just smile and tell them to read the book. It is great for forming personal and interpersonal relationships.
Kimberly (Cleveland, OH)


This book spoke to the heart
Reading this book has been like participating in the best quality personal presentation seminar. I've paid hundreds of dollars to attend such seminars and have not achieved the results that I have already achieved after two reads of Ms. Lowndes' book.
Howard Fields (Chicago, IL)


A wonderful book from a wonderful lady!
God Bless Leil Lowndes! How beautiful she is, in every sense of the word, for bringing forth this piece of work to us from her heart. Her book suffuses such a refreshing sense that we can altogether break from the cycle of cliches associated with the labeling on different groups of society. It was a pleasure to read this book.
Fabris (Miami, FL)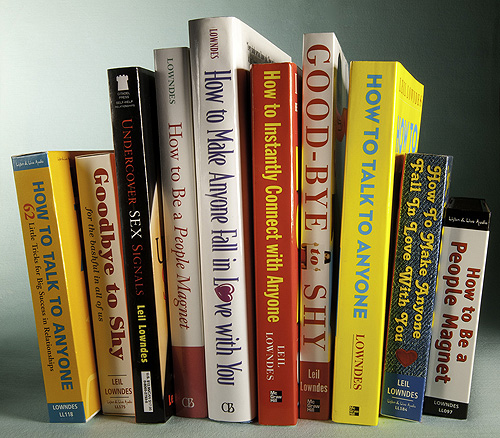 Leil Lowndes
is the best-selling author of 10 books on communication skills and has spoken in every major city in the US and many abroad. She has been called "America's Communication Guru," because she has helped millions become better communicators for business, friendship and love.
Her books are available in eBooks, audio books, and in 26 different languages. Select a title below to read the various book and audio descriptions or to buy now.